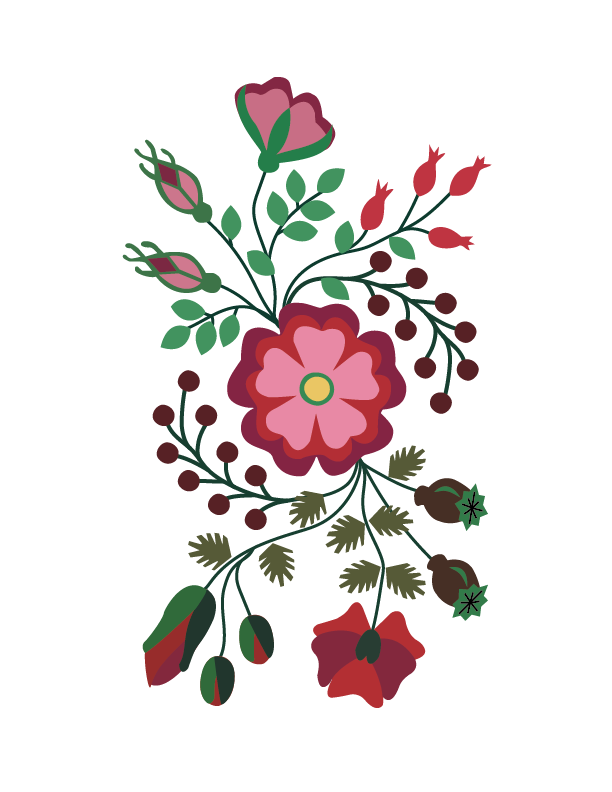 Our logo was created by Sharon Rose Kootenay (Cherweniuk), artist of Metis and Ukrainian ancestry.
Sharon Rose Kootenay – Artist Statement
"As a Métis-Cree heritage artist, the beadwork articles I create have roots in traditional women's artistic practice. My work is inspired by the exquisite craft created by my Grandmother Flora, her sisters, and women artists of her time. I consider my artistic contribution to be part of a cultural continuum of Indigenous women artists and lifeways.
From within the domestic realm, I use fine craft to articulate and celebrate family relationships. As an Indigenous artist, it is my deepest honour to create heirloom and ceremonial pieces. I believe the transmission of authentic cultural perspectives can be achieved through craft and exhibition, and fosters deeper appreciation and understanding between peoples."
Artist Biography
A life-long maker of textile arts, Sharon Rose Kootenay finds her inspiration in the forests and prairie landscapes she calls home.
Through honoring tradition and expressing a deep connection to the land, Sharon's color-filled pieces tell a story of cultural identity and pride. Utilizing beads, thread and needle, she creates fine craft that illustrates regional history, significant family events, and personal perspectives.
A senior member of the Alberta Craft Council, Sharon has participated in numerous exhibitions and cultural projects throughout Canada. She maintains a home in Edmonton, as well as a studio and gallery in the historic Village of Vilna, Alberta.
Logo Design and Process
As a beadworker of botanical design, my daily inspiration begins with a walk through the bush, or time spent in the garden. Being amongst nature is essential to my practice, helping to create a sense of peace and well-being, and the occasion to explore and examine.
With both Indigenous and Ukrainian ancestry, the prospect of creating a logo for the IURBI initiative was an opportunity to visually articulate the deep love and gratitude I feel towards the women of my extended family, both past and present, and the seasons we collectively experience.
Like the abundant wild roses that grew on Flora's river-lot along the Peace River, and the tiny poppy seeds Domka brought along on her epic journey from Bukovina to the new country, the flowers of the logo represent fortitude, hope and faith, and the cycles and passages of their lives. The berries signify the commonalities of my Grandmothers – their kindness and generosity of spirit, and their steadfast perseverance, achieved with an open and welcoming heart.
The process of creating the IURBI logo mirrors the initial design stages of my floral beadwork. For both, I utilize folded and cut paper pieces, sized and positioned until I am pleased with the placement and design. When the design is complete, the coloured petals, buds and berries become the templates that I would use to trace the flowers on to a beading substrate. For this project, I would like to extend my gratitude to my collaborator, artist Jason Symington, who has expertly rendered the design into a digital format.