The Indigenous-Ukrainian Relationship Building Initiative is a joint initiative between the Kule Folklore Centre, University of Alberta (KuFC), and the Ukrainian Resource and Development Centre, MacEwan University (URDC). Our main goal is to advance knowledge about, explore, and reflect on our Ukrainian Canadian history and our shared Indigenous-Ukrainian pasts, in order to build a better future together for the well-being of all.
The urgency to explore the history of Indigenous/Ukrainian relations (past and present, good or bad) has been recognized by many. We are building our work on several prior efforts. We would like to highlight two of them here.
The first is Zemlya/Nanaskomun – a ceremonial exchange of gifts. The event was co-hosted by Myrna Kostash, Canadian writer and journalist, and Sharon Pasula, at that time vice-president of the Métis Regional Council in Edmonton. In Myrna's words, "Deploying Ukrainian and Cree was meant to (symbolically?) bring Aboriginal- and Ukrainian-Edmontonians back into relationship, or at least to remind our peoples that there had once been a relationship…" Myrna's thoughtful reflection on the event, what happened at the event, and what didn't happen is available in her article for Alberta Views "On Gifted Ground" and offers deep and sometimes challenging questions for us to ponder.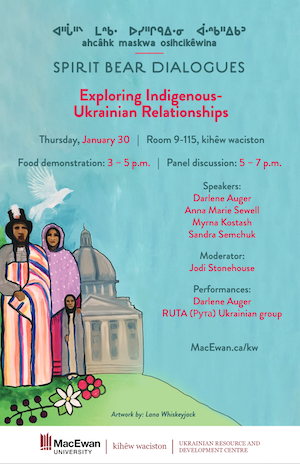 The second event was organized by the Ukrainian Resource and Development Centre at MacEwan University's kihêw waciston Indigenous Centre in January 2020. Inspired by Shumka's Ancestors and Elders, the Ukrainian Resource and Development Centre (URDC) partnered with kihêw waciston Indigenous Centre for a two-part event Spirit Bear Dialogues. Guests had an opportunity to explore relationships between local Indigenous and Ukrainian communities. There was a showcase of culturally significant foods, including borsch (beet soup) and bannock, and a panel discussion featuring Indigenous and Ukrainian voices.
After the MacEwan event, Larisa Hayduk (URDC) and Maryna Chernyavska (KuFC) kept talking about organizing something together and met numerous times over the year together with Myrna Kostash (first carefully distancing in a coffee shop, and then on zoom) to brainstorm ideas. At the centre of these discussions lay the question: how do we plan our work in a meaningful and respectful way? In November of 2020, we met Leah Hrycun – Ukrainian Canadian and doctoral student at the Faculty of Native Studies – who joined our group. We formally launched the Indigenous Ukrainian Relationship Building Initiative in January 2021 with a showcase of Leah's research. Her presentation entitled "Recovering Indigenous-Ukrainian Narratives in East Central Alberta" was a great success and attracted over 500 people.
The second event organized by the Indigenous Ukrainian Relationship Building Initiative took place in April 2021 and discussed art collaborations as creative care. The two presenters were David Garneau and Sandra Semchuk. David Garneau (Métis) is Professor of Visual Arts at the University of Regina. His practice includes painting, curation, and critical writing. Photographer and scholar, Sandra Semchuk is a second-generation Ukrainian Canadian who has focused her photographic and video work on relationships between herself, her family, and her community. She collaborated extensively with her late husband James Nicholas, a leader in the Nisichawayasikh Cree Nation and artist. Chelsea Vowel, a public intellectual, writer, and educator whose work intersects language, gender, Métis self-determination, and resurgence, moderated the discussion.
The working group of the Indigenous Ukrainian Relationship Building Initiative currently consists of several individuals. We envision the initiative to include a series of events and projects including lectures, presentations, and round-table discussions aimed at learning more about Indigenous-Ukrainian shared and divided pasts and presents. We recognize this process may be challenging and are committed to building a space where we can listen, reflect, and develop our dialogue.
We appreciate that Indigenous ways of knowing differ greatly from the Western knowledge system. We are open to listening and learning in order to better understand Indigenous peoples' rights and responsibilities to this land and our own rights and responsibilities as settlers on this land. We hope that many past and current injustices can be reconciled with better understanding of the past, acceptance of cultural differences, and similarities.
The name of this website storiesoftheselands comes from the working title of Leah Hrycun's research. Read more about Leah on the Team page, or find a video recording of her presentation on the Resources page.